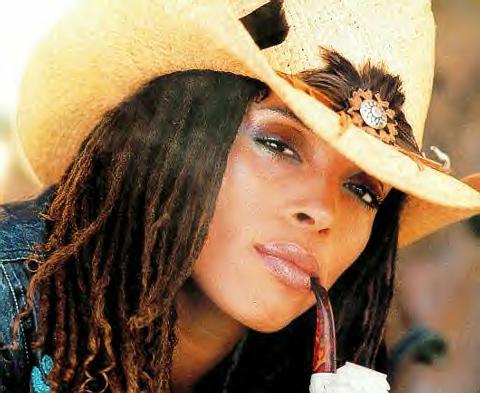 Despite her spotty film work, Lisa Bonet remains one of the more intriguing young character actresses in Hollywood, enjoying a longevity that few former child stars can claim. Born in San Francisco in 1967, Bonet's parents divorced when she was young, and her formative years were spent mostly in New York City and L.A. At age 11, she started auditioning for commercials, and after several years of ads and walk-on TV parts, she landed a plum role in NBC's The Cosby Show. The show was an immediate hit, and Bonet quickly asserted herself as one of the most memorable kids in the Huxtable clan, the outspoken teenager Denise.

It became clear that Bonet shared her character's defiant persona when she left Cosby in 1987 for a racy part opposite Mickey Rourke in director Alan Parker's gothic thriller Angel Heart. The role required the 19-year-old Bonet to appear in several graphic sex scenes, some of which had to be cut for mainstream American release. The actress seemed unfazed at the controversy surrounding her appearance in Angel Heart; nonetheless, the part did little to further her big-screen career, and by the end of the year she would return to the safety of episodic TV in the series A Different World. Also in 1987, Bonet married rocker Lenny Kravitz, whose impetuous free spirit and bi-racial upbringing uncannily paralleled her own background.

The Bill Cosby-produced World was a bonafide hit, but Bonet quickly lost interest in the show, often showing up late to the set or not at all. Within two years she was gone, opting instead to spend more time with her newborn daughter Zoe. Bonet spent the remainder of the 1980s making infrequent appearances on The Cosby Show, and she made a conscious decision not to act in the early 1990s. In 1993, her marriage to Kravitz fell apart, and to make ends meet in the mid-'90s, she accepted roles in made-for-TV and straight-to-video productions. Around this time, Bonet legally changed her name to Liliquois Moon, though she claimed she would continue to use her birth name for her acting career. She had another child with boyfriend and former yoga instructor Brian Kest before returning to the big screen with a memorable supporting role in 1998's Enemy of the State. It appeared that her Hollywood career was once again on-track when director Stephen Frears cast her as a sultry one-night-stand in High Fidelity (2000).
The Articles

Lisa Bonet
Birthday: 16 November 1967

Below is a complete filmography (list of movies she's appeared in) for Lisa Bonet.
Biography

Lisa Bonet was born in San Francisco but has lived most of her life in New York and Los Angeles, where she attended Reseda High School and Celluloid Actor's Studio. Lisa is the child of a Jewish mother and a black father, who was a music teacher. Her parents divorced when she was young and she began acting in commercials at the age of 11. At age 16 she landed the role of Denise Huxtable in the hit comedy series "The Cosby Show." The show made her a popular actress. In the mid-'80s, she met 'Lenny Kravitz' (qv) at a New Edition concert in Los Angeles. At the time, Lenny was a struggling, unknown musician who went by the name Romeo Blue. It wasn't long after they started dating when Lisa and Lenny's relationship was all over the tabloids. The two lovers were said to be soulmates, as they both shared a neo-hippie persona and bi-racial background (Lenny is also half-black, half-Jewish). In 1987, Lisa and Lenny got married (they went to Las Vegas and eloped) and they had a daughter named Zoe in 1988. By 1989, Lenny had landed a record deal and recorded his first album, "Let Love Rule." Lisa co-wrote a couple of songs on the album and she was said to be the inspiration for most of the album. Lisa even directed Lenny's first video for "Let Love Rule." But Lisa and Lenny's relationship was full of problems from the start, including intense scrutiny from the media and Lenny's reported infidelities. It was around this time that Lisa made a deliberate attempt to shed her "goody-two-shoes" Cosby daughter image by making the controversial movie "Angel Heart," where she had racy nude and sex scenes. The backlash from making "Angel Heart" is rumored to have prompted Lisa's exit from "The Cosby Show." But with Bill Cosby's help, Lisa landed on another comedy series, "A Different World," in which she starred as a student at a mostly black university. But perhaps due to her personal problems, Lisa began showing up late for work (or sometimes not at all), and she was fired from the series. She and Lenny separated in a bitter breakup and they eventually divorced in 1993. Lenny's second album, "Mama Said," filled with songs about heartache, is said to be mostly about Lisa. After her divorce from Lenny, Lisa faded from the high-profile stardom she had experienced when she was in a relationship with him, while Lenny became more famous than his ex-wife. No longer an in-demand actress, Lisa occasionally made B-movies, many of which went straight to video. In 1992, Lisa started dating yoga instructor Bryan Kest. They began living together and had a child in the mid-'90s. It was around this time that Lisa legally changed her name to Lilakoi Moon, although she still uses the name Lisa Bonet for her entertainment career. Lisa has said that she has deliberately cut back on acting so that she could spend more time with her family. However, she did make a brief return to the spotlight in 1998 by co-starring with Will Smith in the big-budget hit movie "Enemy Of The State", and had an important role in "High Fidelity" in 2000. Lisa has since become friends with her ex-husband Lenny again. And in an "aren't we all just one big happy family" situation: Lisa's best friend is 'Cree Summer' (qv), a former co-star on "A Different World" who released an album produced by her long-time friend 'Lenny Kravitz' (qv). It was Lisa who suggested that Lenny produce the album and Lisa directed a promotional video for the album. Lisa currently lives in the Los Angeles area with her children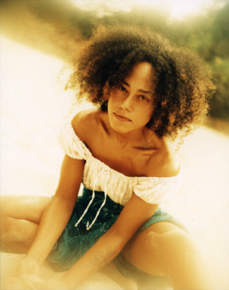 UNSHACKLED: HOW KIZZY GOT HER GROOVE BACK

by tadi

In her song "Curious White Boy" (Editor's note: If you've been listening to the Ladies Room, then you've heard me play it. That song is the shit! d!) singer/actress Cree Summer vocalizes with neo-feminist grrrl rock fervor, the anger shared by many Black women over our systematic objectification and exploitation within a white male-dominated, patriarchal society. Conjuring the ghost of yesterdays slave master alongside todays "curious white boy," Summer illumines the persistent specter that Black women are deemed more wanton, readily available, aggressive, uncontrollable, and even animalistic than other women (with, perhaps, the exception of Latinas). Thus, Cree's sardonic challenge, "When am I gonna meet yo mama?" serves as an indictment against the perception that we, the exotic "other," are suitable bedfellows with whom white men can act out their sexual curiosities, but never serious candidates for a romantic relationship.
Lisa Bonet


Biography

A former juvenile player, the slender, pretty, sleepy-eyed Lisa Bonet came to the fore as Denise Huxtable Kendall, the eldest child on the hugely popular 1980s family sitcom "The Cosby Show". With her luxuriant hair, seductive charm and relaxed manner, she was chosen to star in a successful spin-off series, "A Different World", with which she stayed for a year before returning to "The Cosby Show". Bonet attracted media attention for her alleged on-the-set tiffs with co-star Bill Cosby as well as her role as a voodoo princess in Alan Parker's "Angel Heart" (1987). Her steamy love scenes with Mickey Rourke had to be trimmed so the initially X-rated feature could be reclassified and released with studio support. Bonet began taking acting lessons at age 13 and after a handful of small screen appearances landed her breakthrough role. Post-"Cosby", she disappeared from view for seceral years, directing music videos and raising her daughter by musician Lenny Kravitz. Bonet returned to acting as Patrick Dempsey's love interest in the low-budget feature "Bank Robber" (1993) and subsequently appeared in the direct-to-video "Dead Connection" (1994), as a vindictive woman posing as a journalist to track a serial killer. She returned to the big screen opposite Will Smith in the thriller "Enemy of the State" (1998).
HOLLYWOOD -- Canadian singer and voice-over specialist Cree Summer takes great glee in playing the princess in Disney's new animated adventure, Atlantis: The Lost Empire.

The royal one in question is the Atlantean Princess Kidagakash, or Kida, the feisty 8,500-year-old heir to the throne in the underwater world the animators have invented.

"I was, like, Yeah, cool!," the ebullient Summer says now of her first encounter with the character -- a pencil sketch -- more than three years ago when Disney was casting voices.

"They told me a bit about what a brave heart she is and what kind of warrior she is and what a hot honey she is," Summer says with a hearty laugh, her punctuation for most of her exclamations. "I love her face tattoos: It's so punk rock."

Summer, who turns 32 in July, is one of a handful of Hollywood-based vocal talents cited as the superstars of their unique profession. Sometimes credited as Cree Summer Francks in films such as Rugrats In Paris: The Movie, she is the daughter of eccentric Canadian singer-actor Don Francks and former American singer-dancer Lili Clarke.

Among dozens of roles, her characters include Max Gibson ("a really stacked African-American chick," she says) in Batman Beyond, Elmyra Duff in Pinky, Elmyra & The Brain, and Suzie Carmichael in the Rugrats TV series and movies. She started on this specialty as the teen voice of Penny in the Nelvana-produced, Toronto-made Inspector Gadget in 1983.

"Being female and African-American, the joy and freedom that animation gives me is limitless," Summer says. "I get to play everything. I get to play any gender, any race, make an inanimate object come to life, and it's so much an incorporation of my imagination. It's on you to use your sound to give this character life, and I love the creativity that goes into that. So it's very satisfying. I mean, music is my very first love but right next door is animation."

Summer, whose father is of Caucasian origin and her mother of African heritage, credits her peculiar childhood for her unusual ability to create vocal characters.

Born in Encino, Calif., Summer was whisked by her "hippie parents" to the Red Pheasant Cree Indian reserve near North Battleford, Sask., when she was an infant. There she lived with her parents in a tepee, then a traditional mud house Francks built without electricity or water, and finally a log cabin belonging to an elderly medicine woman.

Pressure from the band chief pushed the family to leave late in 1974. The family then drifted around before moving to Toronto, where Cree's parents are still based.

"Living on a reservation and spending so much time alone and not in school -- and also (later) living in a school bus and going lots of different places -- I spent a lot of my childhood alone. So now I utilize the voices in my head. You know, this is just a lot of my childhood entertainment, to keep myself having a good time, and now I get paid for it. Suckers!

"It's great. It's so much fun. I can't believe it qualifies as a job. It's good. It's a good thing."

---

As well as English, Cree Summer speaks Atlantean in Disney's Atlantis: The Lost Empire.

The language, with its Indo-European roots, was invented for the animated film by Marc Okrand, best known for creating the Klingon and Vulcan languages for Star Trek.

"This is my second fantasy language," says Summer, the voice of Princess Kida. "I also speak Ewokian." Summer voiced Princess Kneesaa in the TV series Ewoks in the 1980s.

"I'd drive around in my car going bonkers," she says of listening to Okrand's tapes of Atlantean. "I mean, this is not an easy language to get."

Yet Atlantean was almost easier to learn, she says, than speaking English with an accent as Kida, "because that is another thing we had to invent and fool around with and still make her easy to understand. But that was a cool thing. I felt like I got to contribute a little bit of my creativity."

---

Thursday, April 1, 1999

Cree Summer nabs Lenny Kravitz for debut LP

By KAREN BLISS -- Jam! Music

Cree Summer just appealed to the male ego to get Lenny Kravitz to duet with her on the bluesy "Mean Sleep" off her debut solo album, Street Faerie. The singer-songwriter with the funky rasp and earthy poetry met Kravitz 11 years ago when she played Freddie Brooks on the hit television show A Different World and he was married to her co-star Lisa Bonet.

The 29-year-old Summer, who grew up in Toronto but has lived in Los Angeles the past decade, wrote the song just before she went to Nassau where Kravitz produced the album. She didn't have the audacity to assume he would sing it with her, so instead, she told him they should fly someone in to do it.

"I think on some unconscious level I was baiting him because I did say, 'There's one rule I got, Lenny. The voice of this guy has got to be real masculine. I don't want no mamby pamby sugar-pansy voice. I want a real man's voice.' and What's he gonna say? "He said, 'Well I think I should sing that," she laughs.

Another song on the album, the spirited "Miss Moon", was co-written with Kravitz and inspired by Bonet who was down in Nassau with them for the entire two months they recorded.

"We drove jeep out to the beach, put on the fog lights and blasted the music. It was a full moon. She jumped out of the jeep and dance for us," recounts Summer. "We were both (menstrual) cycling and I got all inspired lyrically and he got all inspired musically and we wrote this sweet song.

"I thought it would be nice too to have this song written about this part of being a woman that's so often made to us to be a curse, when this is the great discerning factor that makes us women, and gives us the power to decide when life comes unto this earth. This is a part of our magic, not something to be embarrassed by, (but) something to celebrate."

Sometimes Summer speaks like a natural poet, with beauty and insight and rhythm, then she'll punctuate the next sentence with expletive like "motherf**k." She is lively and headstrong and passionate, it seems, a product of an actor/musician father, Canadian Don Francks, and dancer mother. She has a younger brother, Rainbow.

She was born in California, but spent her formative years on Red Pheasant, a Plains Cree reserve in Saskatchewan where her parents were married and Francks built his family a house out of mud, grass and wood. The home survived six Canadian winters. "I danced pow wow, I rode horses, I had lots of friends," Summer recalls of that time.

When the government discovered a non-Native family was living on the reserve tax-free, they relocated to Toronto. Through her father, Summer began doing cartoon voice-over work like Inspector Gadget. At 13, she joined her first band and by 16 had dropped out of the Toronto High School For The Performing Arts. She gigged in all the local clubs, the Bamboo, Lee's Palace, the Rivoli, with such acts as The Maxx and Mystique, the R&B band Deborah Cox would later join.

"In our minds, it was a career. We thought we were big shots," she laughs, although they never shopped for a record deal.

It wasn't until she relocated to Los Angeles at age 18 that she truly began to pursue a music career. Lured to Hollywood by "that whole propaganda fantasy -- go there and be a rock star", she knew she could support herself by doing voice-overs for American animation houses. And she did, including the characters Elmira from Elmira & Pinky & The Brain, Suzy from Rugrats and the affected lady peanut of the M&M candy commercials. She then landed a role on A Different World, but continued music.

When her rock band Subject To Change got a deal with Capitol, she made a record called Womb Amnesia, and toured with Gin Blossoms and Fishbone. Then a new CEO took over the label and the band was dropped, the record never released, and the band broke up two months later. "That was a heartbreak," she says. "It's hard enough to break up with one dude. Imagine six."

In many ways, it was a blessing, she feels, in retrospect. She says she sounded like "a ranting chipmunk" on the album. Disillusioned, it took a year away from music to get back into it for "art's sake." She started writing again and gigging in LA under her own name and labels started coming out. She eventually signed with Work Group, home to Canadian acts Esthero and Len.

"I wouldn't trade that experience for anything," she says of her training ground with Capitol. "On one level, I know my way around the studio. I know how to tour. I know how to work a band. I was the songwriter for that band, so it really got me to hone my skills, and on the other level, it was a good heartbreak, because I was I was in my early twenties. I had expectations to be this great rock star.

"And so to get your heart broken and fall on your face, you tell all your friends you've got a record coming out and then nothing, that was a real public crash. So I got to play music just to play music, and I started gigging again, not looking for a deal, and feeling satisfied and feeling good, and that was a great experience. So now I feel like I'm a success already. I got it all."

Summer hits the road April 23 with Lenny Kravitz, The Black Crowes and Everlast. She'll then play the festivals in Europe, before joining some Lilith Fair dates back in North America.

4/21/99, 1 a.m. PDT) - It's not every day that a new artist debuts with an album produced by and featuring a platinum-selling artist, but such is the case with

Cree Summer

's bow,

Street FaŽrie

, which was released yesterday.

The album, issued on Sony's WORK label, is produced by Lenny Kravitz, who duets with Summer on the bluesy song "Mean Sleep," co-wrote "Miss Moon" and "Still Heart," and lends instrumental support throughout the 13-track album. Kravitz has also enlisted Summer as an opening act on his spring tour with the Black Crowes and Everlast, which kicks off Friday (April 23) in Irvine, Calif.

The Kravitz connection came courtesy of the rocker's former wife, Lisa Bonet, who Summer knew from her days as an actress on the NBC sitcom A Different World. "She's an old and dear friend of mine," says Summer, who is also known for her work as a voiceover talent on such animated TV shows as The Rugrats and Inspector Gadget. "I've been sharing music with Lisa since I started writing music. I gave her some songs that I have written and she gave them to Lenny just to listen to, and he was like, 'Oh my God, give me her number.'"

The two musicians had known each other in the past, but fell out of touch following the marital split between Bonet and Kravitz. "Sometimes when people get a divorce, you either go with the wife or the husband, and I went with the wife," Summer explains. "Lenny and I hadn't really spoken in years, but then I got this call." Kravitz asked Summer who was producing her album. When the singer replied that she hadn't found a producer yet, he volunteered his services.

It was with that sort of casual spirit that the eclectic Street FaŽrie was made. "Everything with this record has been so organic and so effortless. All my friends have contributed," she adds. "It's really a grassroots, homegrown kind of journey, and a straight family affair."

Those family ties extend to Bonet directing the electronic press kit to the lyric sheet calligraphy by Summer's father, actor/ musician Don Francks.

As for Kravitz's vocal participation, Summer admits that she baited the producer into lending his voice to the project. "I told him 'Mean Sleep' was a duet, but I couldn't sing it with some pansy ass," she recalls. "I told him that it had to be a real strong manly voice, and he said, 'I'll do it,' and I was like, 'Score.'" The situation also allowed Summer to turn the tables on her producer. "It was nice to be on the other side of the booth and say, 'Do it again,'" she laughs.

The album, recorded in the Bahamas, also allowed Summer to make a unique connection with her longtime friend Bonet, who is the subject of the song "Miss Moon." Says Summer, "We had been in Nassau for so long that we were cycling together, as women do when you spend time in a place, close." During a stop on a moonlight drive, Summer, Kravitz, and Bonet parked on a beach to listen to some of the work in progress. "Lenny and I were in the jeep listening to some of the songs and Lisa jumped out and was dancing on the beach under the full moon and she looked so beautiful."

Upon their return to the studio, Kravitz started "playing this cool-ass riff, which sounded like gypsy hip-hop funk," she recalls, "and he asked me to write some words." Instead of going back to her room to write, Summer was invited on a visit to a local nightclub where she was introduced to Jagermeister for the first time. "They poured me back into the room and I had like 10 minutes to write the lyrics and I was immediately hit by this lovely image of [Bonet]," Summer adds. "When I woke up the next day and I got sober, I still liked the lyrics."

by Sean Daly

Atlantis' Cree Summer: Pirate Junkie

Im a big fantasy junkie, said Cree Summer, who had skulls and crossbones painted on her toenails when she arrived in Los Angeles last week to promote Disneys animated Atlantis: The Lost Empire. Im obsessed with pirates, the actress explained. Female pirates in particular.

At 31, Summerbest known as Freddie Brooks on the 1980s sitcom A Different Worldfeeds her fascination for urban fantasy mostly through comic books. Shes a collector of the Elf Quest and Dr. Strange titles and is a regular customer at LAs Golden Apple a popular collectibles store on Melrose Avenue. They know who I am and set aside books for me, she boasts.

But Summers interest in fantasy and adventure doesnt stop there. In fact, the Canadian-born actress reports that she meets under full moons with a group of nearly 30 women who call themselves The Pirates. We have poetry circles and drum circles, she says. Usually we get together for something creative. The members, which include actresses Lisa Bonet and Marisa Tomei, all have their own pirate names, says Summer, who is known at meetings as Honey Brown, the Seductress of the Seven Seas and Our Lady The High Pimpstress. (In case youre wondering, Bonets name is Frida Bandita and Tomei is Scarlet Feva).

Summer, whose father was a spiritual advisor for the 1960s rock band Crow Bar, spent her early years growing up on an Indian reservation in Saskatchewan, before relocating to Los Angeles at 17. I havent been on camera for years, says Summer, who has instead made a career out of voicing characters for television and film.

In Atlantis, she supplies the voice of Princess Kida, the love interest of Milo Thatch (Michael J. Fox). The character is certain to be a favorite of teenage boys, Summer explained, laughing: Shes a hottie. And shes my color. Caramel-colored and habit forming. Shes up there with Jessica Rabbit in my opinion.